Bächler Top Track Lance-Pack
V 1.1 mod for Ski-Region-Simulator 2012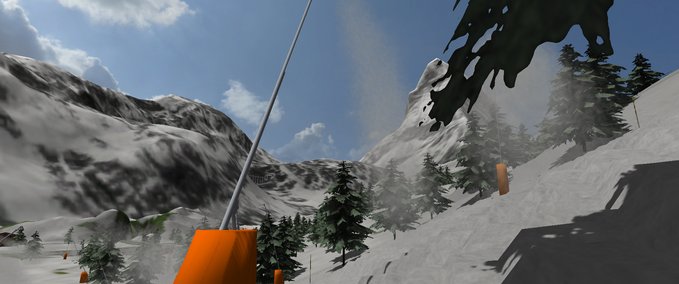 description
We presents the Bächler Top Track Lance-Pack. In this pack, of the swiss company ,is the NESSy snowlance and the SnoTek snowlance. One SnoTek can you find in the skiarea Disentis3000.

NESSy:
The NESSy is the snowlance with the invovativst technology, which you can find. She is quieter and he doesn`t broke as many compressed air as normal lances.
SnoTek:
Aleso the SnoTek is a very inovative lance. The technology from the SnoTek is based of the NESSy. Whit the inovative jet of the lances, the lance isn`t sensitive of wind.
Feautures:
- Placeable
- true to the original
- the mat can you put away/make on the lance
- (New!)The mat position will be saved by a restart of the game. 
functions:
- Put the lance on: B
- take the mat step by step away: S
- make the mat step by step on: W
Credits:
- Sevi/Tarzan ("owner" Disentis 3000 - the Map, transfer ot the project)
- Jonny48 (Ingame, functions)
- LSBrandi (Sound)
- Bächler Top Track: We thanks a lot for to approve the project and help us!
It istn`t allowed to upload this lances on a otherpace and aleso it isn`t allowed to upload this lances in a revised form. It is only allowed to link the downloadlink on a other page.
support: http://disentis3000.jimdo.com/
Credits
Modell: Sevi/Tarzan
Textur: Sevi/Tarzan
Script: Jonny48
Idee / Konzept: Sevi/Tarzan
Unterstützung der Umsetzung und Genehmigung für das Projekt: Bächler Top Track
Sound: LSBrandi
changes
07 Jul 14:54

Version 1.1

- Neuer Aufprallschutz
- NESSy flackert beim Kauf nicht mehr

12 Jun 16:12

Version 1.0
Files
checksum:
23642e6a77debeb82b64650945f09f7c
Version:
1.1
multiplayer ready?
yes
Author:
Sevi/Tarzan
price in shop:
25000 LS
name in shop:
NESSy
description in shop:
Die NESSy Schneilanze ist die wohl effizienteste Lanze, die es gibt. Sie verbraucht bis zu 80% weniger Druckluft und hat eine 5mal geringere Lärmemission.

by Sevi/Tarzan feat. Jonny48
Empfehlungsrate
-/-
noch nicht genug Stimmen
Do you think this mod should be featured?
}