Mountain Rescue
V 1 mod for Ski-Region-Simulator 2012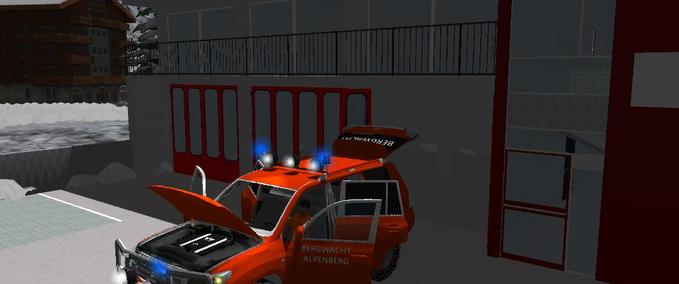 description
This is a Mountain Rescue SUV

 

Xx_Tim_xX has rebuilt the mod for us!

Permits are available

 

 

Details:
Toyota LC 200 Mountain Rescue

mod

 

3D Model / Texture: Denus & dim \ ON
    Edit: Igor Shevelev
    Haengerkupplung: Jessy04
    V3_LS11 by Wolf Tiger www.mod-scheune.com
    Tires: Kleener-Putzi
    Skin: firerobs96
    Tag: Xx_Tim_xX (On Modhoster Timiboy10)

 

conversion

 

- Speed camera installed
-New beacons
Motor starter
Siren must be held not more
Driving behavior improves
Help text
Snow chains
Normal-mounted horn

 

functions

 

RUL-blue light

Front Blitzer (light blue)

-Open all doors

Turn signals / hazard lights

Front headlights

Roof-lights

Horn

horn-

Help text for Tatsenbelegung

 

 

Unfortunately missing the windshield!

Maybe there will be a V2 with disc ...

 

 

 

Must not be altered or re-uploaded!

 

It is not allowed to reedit or upload the files again!

 

Have fun!
Credits
Dank an

Xx_Tim_xX (Auf Modhoster Timiboy10)
Denus & dim\ON
Igor Shevelev
Jessy04
Wolftiger
Kleener-Putzi
firerobs96
Files
checksum:
39e89b6fbed3b6ad819d6d9c64e8017f
Version:
1
multiplayer ready?
no
Author:
Wolftiger
price in shop:
66000 LS
name in shop:
Toyota Land Cruiser 200 Bergwacht Alpenberg
description in shop:
3D Model/Textur: Denus and dim\ON
Edit: Igor Shevelev
Haengerkupplung: Jessy04
V3_LS11 by Wolftiger www.mod-scheune.com
Reifen:Kleener-Putzi
Skin: firerobs96
Umbau: Xx_Tim_xX (Auf Modhoster Timiboy10)

Empfehlungsrate
-/-
noch nicht genug Stimmen
Do you think this mod should be featured?
}