Gemini lance
V 1.1 PLACEABLE mod for Ski-Region-Simulator 2012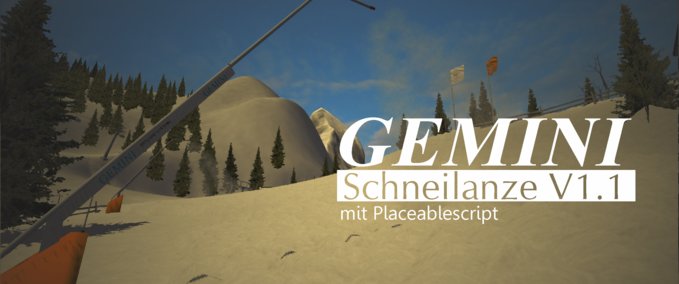 description
LSBrandi Modding presents the new GEMINI lance. These simple made snowmaking is perfect, by its bending, for narrower tracks. The lance has two projection axes, which ensures a better distribution of the snow produced.
In addition, the Gemini lance the first SRS-Mod with the GIANTS placeable script.
The lance has many great and brand new features such as:
Placeable (as in DLC1)
true to detail
original sound
outdoor sound
impact protection
There are the following Terms of Use
TIP: If you want to activate both projection axes, then switch with key C on the 2nd projection axis and after that start with key B!
Have fun with the snow lance wishes LSBrandi modding!
Website: http://lsbrandi.jimdo.com/
Facebook: http://www.facebook.com/lsbrandiundamc/
Credits
LSBrandi Modding
Giants
changes
09 Mar 15:53

Version 1.1 PLACEABLE

Fehler beim Platzieren behoben - Schneilanze kann nun auch im Shop gedreht werden.
Neue und vereinfachte Steuerung

06 Mar 13:49

Version 1.0
Files
checksum:
2334f42ee47ae81d8632aaa0b3cb3aa9
Version:
1.1 PLACEABLE
multiplayer ready?
yes
Author:
LSBrandi Modding
price in shop:
15000 LS
name in shop:
Gemini Schneilanze
description in shop:
Diese einfach ausgeführte Schneilanze eignet sich perfekt für schmälere Pisten. Die Schneilanze bietet zwei Projektionsachsen, was eine bessere Verteilung des produzierten Schnees sicherstellt.

by LSBrandi Modding feat. Jonny48

Empfehlungsrate
-/-
noch nicht genug Stimmen
Do you think this mod should be featured?
}