PB400 Park Flexmobil
V 3.0 mod for Ski-Region-Simulator 2012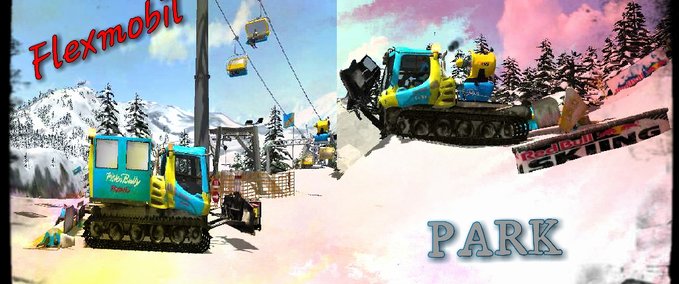 description
Dieser PB400 ist eine Kombination aus dem
PB400 Park (ModPack 4)
+
PB400 Pistentaxi (ModPack 5)
+
PB400 Standart (ohne Aufbau)
Die Kombination von 3 Fahrzeugen bringt einige Vorteile mit sich:
Zum Beispiel wird so die Performance im Spiel verbessert, da jeder einzelne mod auch seine eigenen Dateien verwendet (Texturen, scritps, etc) und diese Dateien so reduziert werden.
Da das Spiel seblst eine "shader"-Grenze hat und bei zu vielen mods Grafikfehler auftreten können, spart diese Kombination dreier Fahrzeuge somit auch shader ein.
Desweiteren mindert diese Kombination auch Anschaffungs- und Unterhaltskosten.
NEU in V3.0 :
- Performance verbessert
- Texturen verbessert
- neue Beleuchtung
- Strobo Warnleuchte
- Lichtanzeige an den Amaturen
- Lichteffekt
- diverse Dekoration
- HUD Menü
- zum Teil neue Sounds
- Pistenbully Park Modus
- Flexmobil Pistentaxi Modus
Zubehör (enthalten):
- Schneeschild "Park"
- Walze "Park"
- Pipe Magician von LsLandwirt im passenden Design
- Walze "Flexmobil"
- Transportbox "Flexmobil"
optionales Zubehör (nicht enthalten) :
- Transportschild für Transportbox  hier
credits:
LsLandwirt
(Urmod PB400 mit Schneekanone / PB400 Pistentaxi / Pipe Magician)
Tobias
AlfamoddingTV
ACHTUNG:
Der PB400 Park/Flexmobil kommt als gebündeltes ModPack und die Datei muss zuerst ENTPACKT werden !
Anleitung zum Entpacken: hier
Wichtig:
Die Mods haben die gleiche Bezeichnung wie vorher.
BITTE ERST DIE ALTE VERSION LÖSCHEN, DANN DIE NEUE VERSION EINFÜGEN !
Die mods befinden sich dann an der Stelle in der map, wo ihr die alten mods im Spiel gespeichert hattet :)
Infos und support :
DonChris - Homepage
Darf nicht verändert oder neu hochgeladen werden !
It is not allowed to reedit or upload the files again !
Credits
LsLandwirt

Tobias

AlfamoddingTV
Files

Empfehlungsrate
-/-
noch nicht genug Stimmen
Do you think this mod should be featured?
}