Stutz Matt - the Standard Map
V 1.0 mod for Ski-Region-Simulator 2012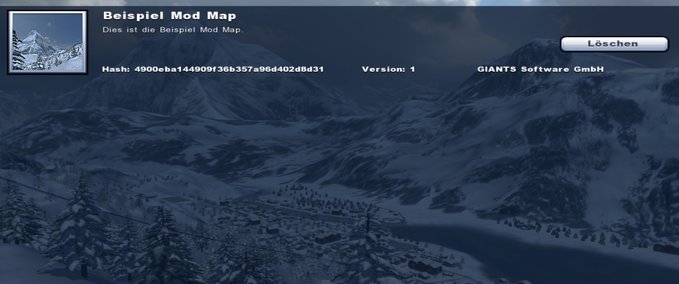 description
Stutz Matt - the Standard Map
This is the default map "Stutz Matt" for people who want to build their own map from this Map.

So you can open at all this map, must be 4.1.9 installed with you the Giants Editor. Should be not already installed on you, you must do that first.
To install: computer / hard drive / programs x86 / Ski Simulator 2012 / sdk
In sdk folder of the Giants Editor is click to finden.1x and follow the instructions to install it.
So you then from the Standard - Map your own map can build, you must first in the "Stutz Matt" folder go, and therein click 2x left click to MAP01 from Giants Editor. This will open the Map. To move around: Alt + mouse buttons ...
To store: Once you ready since, File, Save As, then then choose the next window, select the Desktop, select the Stutz Matt folder, and on the MAP01 from Giants Editor 1x left click, then down to save. Should then get a message asking if the map is to be replaced, then press umbedingt Yes.
Now the standard is - Map in the ski simulator named 2012 as the example Mod Map. If you want that your map then gets a different name, then you can go to for modDesc, and adjust where the name and description of the Map. Then File, Save.
To still be able to play your map well, you need it to Documents / My Games / Ski Simulator 2012 / mods insert. Even the map is completed. Notice: If you also names the folder otherwise, then no Ü, Ö and other characters. Otherwise, the file is not recognized by the game and is not playable.
Important NOTE :
This mod is a folder containing the files in a Zip archive win.rar. This archive unpack 1x. Then the folder "Stutz Matt" appear on your desktop.
Have fun and good luck !!
Credits
Modell: -
Textur: 
Script: -
Idee / Konzept: -
Tester: Leon
Sonstige: -
Files
| | |
| --- | --- |
| checksum: | 16737422c806a1a232c8b37dc5c02656 |
| Version: | 1.0 |
| multiplayer ready? | yes |
| Author: | GIANTS Software GmbH |
| price in shop: | LS |
| name in shop: | Beispiel Mod Map |
| description in shop: | Dies ist die Beispiel Mod Map. |

Empfehlungsrate
-/-
noch nicht genug Stimmen
Do you think this mod should be featured?
}