SUFAG Pack
V 1.0 PLACEABLE mod for Ski-Region-Simulator 2012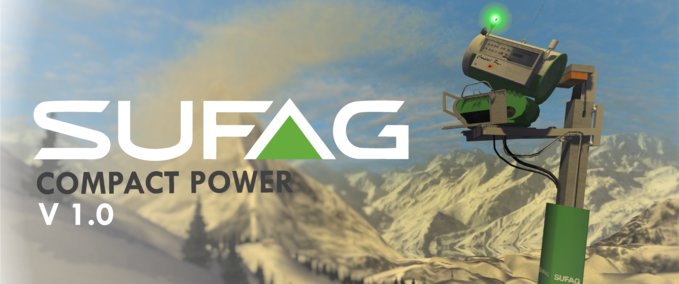 description
LSBrandi Modding presents SUFAG Compact Power Pack V1.0. Through the authorization and support of SUFAG has managed to realize the compact power pack. This snow gun Pack was existing and new features with many details, so as to provide a unique gaming experience. In addition, the snow guns were equipped with the transport script of Austrian Modding teams.
Included in the pack are:
Compact Power Mobile
Compact Power 6m lift tower
The pack has many great and brand new features such as:
Placeable (as in DLC 1)

Detailed canon models
work light
Lights remain activated even after disembarking
original sound
improved handling NEW!
improved exterior sound NEW!
animated Lift Tower
Cannon with tarpaulin coverable (summer scenario)
Manufacturer's Description:
The Compact Power snowmaking offers an optimal pressure control behavior with this coordinated nozzle ring geometry and a significant advancement in performance at marginal temperatures. In addition, the snow gun is easy to service by the assembly of all machine components.
Enjoy the SUFAG Compact Power Pack wishes LSBrandi modding!
Recommended Mods:
Signs Modpack > DOWNLOAD <
Tractor Adapter (AMT) > DOWNLOAD <
Website: http://lsbrandi.jimdo.com/
Facebook: http://www.facebook.com/lsbrandiundamc/
Credits
by LSBrandi Modding
Attacherscript: Austrian Modding Team
Placeablescript: GIANTS
changes
08 May 17:31

Version 1.0 PLACEABLE
Files
checksum:
9fdd56b2bb5904c7d33c5635a1dcce1b
Version:
1.0 PLACEABLE
multiplayer ready?
yes
Author:
LSBrandi Modding
price in shop:
25000 LS
name in shop:
SUFAG Compact Power Mobil
description in shop:
Der Schneeerzeuger Compact Power bieten ein optimales Druckregelverhalten mit dazu abgestimmter Düsenkranzgeometrie und einen deutlichen Leistungsvorsprung im Grenztemperaturbereich.

by LSBrandi Modding

Empfehlungsrate
-/-
noch nicht genug Stimmen
Do you think this mod should be featured?
}