SUFAG TwinPower
V 1.2 mod for Ski-Region-Simulator 2012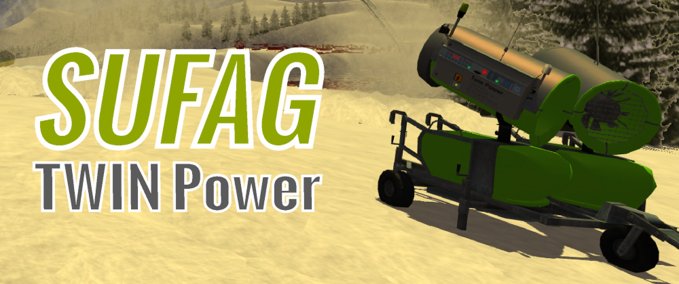 description
LSBrandi and AMC present the SUFAG TwinPower.
These snow cannon offers a double volume of snow. An Optimum pressure control behavior with this coordinated nozzle ring geometry, a
Significant performance advantage at marginal temperatures, a Service-friendly assembly of all machine components and a high resistance value provides the SUFAG
Double snow guns.
The Schneipreis was lowered now costs the equivalent of € 216 Bescheiung
Small Additional info: To vermeindlich unötige Comments: This Snowblower does not exist in reality. However, we will soon provide even a single snow gun SUFAG (Compact Power) on Modhoster.
This model was skinned based on the GIANTS Twin Cannon and changed.
View our website: www.lsb randi.jimdo.com /
It is forbidden to put this mod in un-/veränderter form without the permission of the Urmodders on other pages for download.
It is forbidden this mod in a un-/modified form, without asking the permission of the Urmodders on other sites for download.
Credits
LSBrandi
changes
25 May 12:09

Version 1.2

Version 1.2
Files
checksum:
ef01eb13d666f36502dc8a0b643ce6ab
Version:
1.2
multiplayer ready?
yes
Author:
LSBrandi
price in shop:
70950 LS
name in shop:
SUFAG Twin Power
description in shop:
Ein Optimales Druckregelverhalten mit dazu abgestimmter Dsenkranzgeometrie,ein
Deutlicher Leistungsvorsprung im Grenztemperaturbereich, eine Servicefreundliche Anordnung aller Maschinenkomponenten und eine Hohe Wertbestndigkeit bietet der SUFAG
Doppelschneeerzeuger.

Empfehlungsrate
-/-
noch nicht genug Stimmen
Do you think this mod should be featured?